Modular production: Realizing potential with zenon
Produce like it´s already 2030
50%* faster time to market
40%* reduction in production costs
Free fact sheet and video about MTP
MTP video and fact sheet
Why are we asking this? We would like to contact you with relevant information in the future about MTP.
Paradigm shift in manufacturing
Today, an increasing demand for individual products and small batches leads to ever shorter product and innovation cycles. Therefore, much depends on the flexibility of plant utilization. Module Type Package (MTP) is a manufacturing concept that can ensure this.
Modular plants also modular digitization are decisive in order to be able to flexibly manufacture different products is next to. To achieve this, large parts of the control and regulation intelligence are relocated to modules. These can be easily arranged, added or removed and adapted to current production requirements. They are described in zenon according to the manufacturer-independent and cross-manufacturer information model MTP. Integrated in a superordinate Process Orchestration Layer (zenon POL), these modules are interconnected to form an overall system which allows an endless variety of new orchestrations (Plug & Produce).
*Source: ISBN: 978-3-89746-191-2 Modular Plants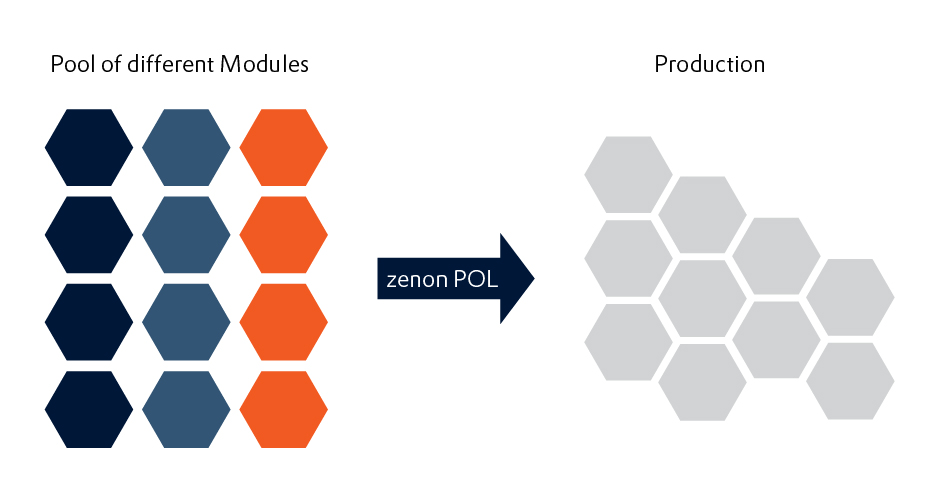 What about older plants and machinery?
Existing systems can be made MTP-capable with the integrated zenon Logic Service and can thus be integrated into the POL without additional programming effort.
Can I create my own MTP file to simulate the infrastructure?
Yes, in the future we will launch an MTP editor, where this will be possible.