Consistency for machines in packaging lines
zenon

template

for

PackML

HMI
Help operators to master a variety of machines through a common HMI UI concept
Ensure increased efficiency and reduced maintenance costs
Speed up the implementation of your HMI solution by using ready-made components
Optimize your machine HMI for optimum usability & comply with OMAC´s PackML Implementation Guide for HMIs
Benefit from limitless expansion options towards integrated OT/IT solutions, including ISA 88 batch control
Watch the video for more information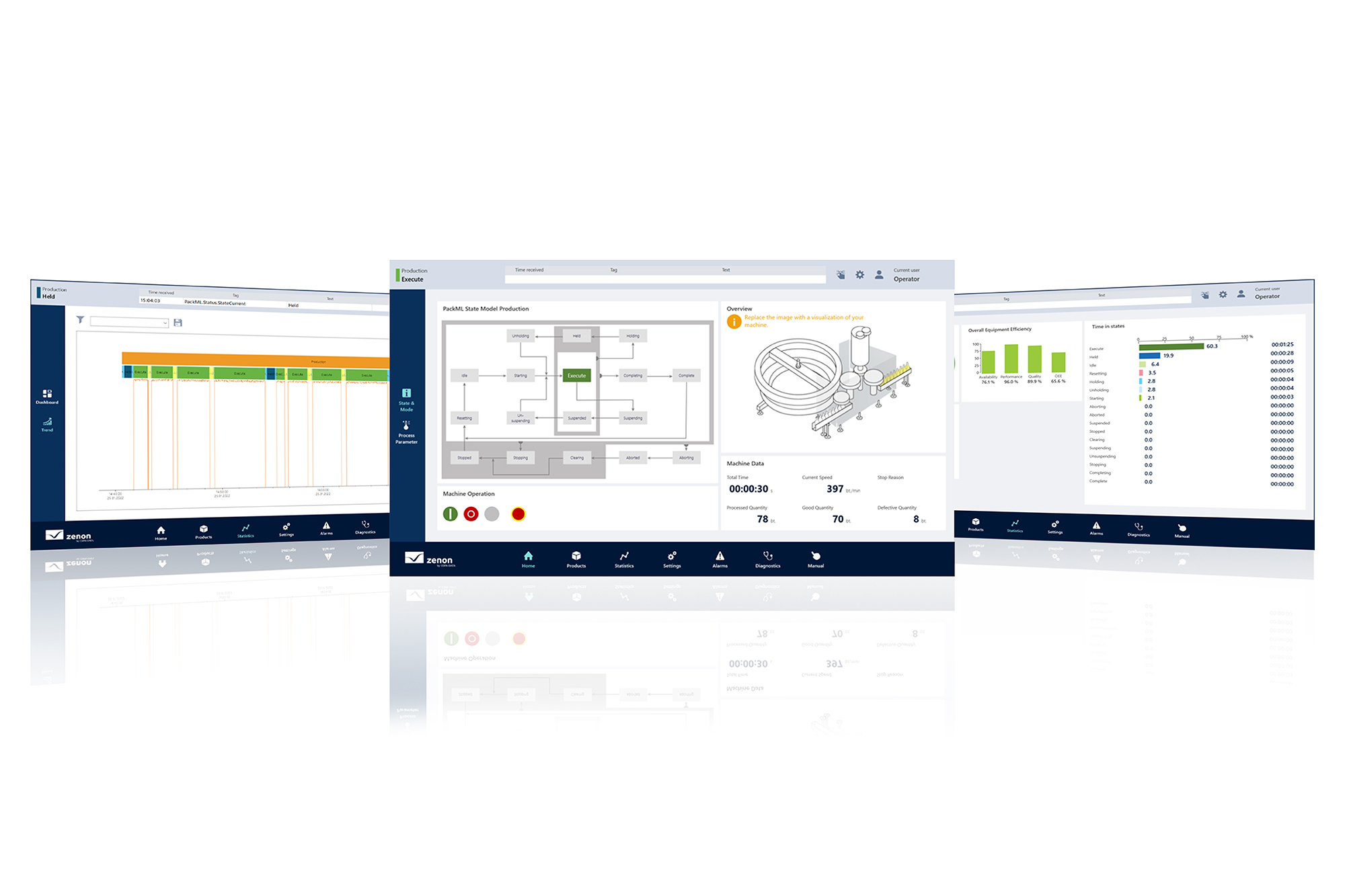 What is PackML HMI?
OMAC – the organization for machine automation and control – is the publisher of the PackML standard. PackML aims to bring consistency to machines in packaging lines. It defines mandatory pack tags for data exchange, state models, and – in Implementation Guide Part 6* – an approach for harmonized user interfaces. As a member of OMAC and co-author of the document, COPA-DATA offers a template for HMIs that is fully compliant with the implementation guide. It supports both machine builders and end users.
*PackML Implementation Guide Part 6: PackML HMIs – User Interfaces, Stacklights, and Push-Button Controls
A template containing all you need to get started.
Embedded demonstration and simulation components supporting rapid engineering.
A basis for limitless expansion options to move towards your vision. zenon is a comprehensive platform and supports scalable and extendable applications.
"What we value most of all about zenon is its range of connectivity. If many different types of devices are used in a production infrastructure, it is particularly important to use an open system with numerous drivers. It is therefore possible to make small changes without having to continuously replace everything."
Herbert Schrobenhauser
Adelholzener Alpenquellen GmbH
"Because it`s an open, platform-independent system, it`s amazingly easy to flexibly integrate zenon into pre-existing infrastructures. This allows us to save up to two weeks during the commissioning phase, which results in massive savings for our customers and guarantees us a competitive advantage."
Lorenzo Baruzzi
SACMI
"zenon is not only strong in performance but also scalable from panel right up to SCADA system. At the same time, COPA-DATA stands for clear and consistent licensing."
Robert Mecking
iglo GmbH
Trusted by these companies: