Think big and start small with zenon
For those who view brewing not just as a profession, but a vocation. For those who have not found the perfect beer and therefore simply decided to brew it themselves. And for those who believe enjoyment begins not with the first sip, but with the creation. For all of you, zenon is the ingredient for more simplicity in your brewery.
This guide will accompany you on your development journey, so brewing automation will be of great help in every step. Simply enjoy the freedom to create beer as you like. The guide includes steps:
Shape your vision
Get started with flexible automation
Staying on improvement trend
Watch how to brew with zenon
How zenon solves your daily challenges
Recipe Handling
Create and execute new recipes (beer types, new products) in a flexible way without big efforts (effort: no changes in automation, no big competences necessary, re-use previous experience, etc.)
Easy operations
Know what happens at all times and react quickly to emergencies. Easy operation, empower the user to operate the system with ease, prevent errors before they occur or happen.
Data management
Profit from historical process data: traceability, continues improvements, consumptions statistics, KPI's and more!
zenon allows you maximum flexibility and adapts to your needs. Brew with the equipment you want and choose your hardware.
Design your brewery the way you want it
Enjoy endless scalability
Update your brewery while it is running
Increased competitiveness
Whether you start with a small project and want to keep it that way, or scale your business, zenon will increase your productivity and brew your beer competitively.
Shorten time to market
Improve your efficiency and reduce costs
Know where to improve your production through data
While ensuring continuous consistent quality, zenon helps you avoid problems before they occur. zenon ensures that only people selected by you have access to the brewing process.
Rely on state-of-the-art security mechanisms
Comprehensive user management
Avoid data loss and damage from outside attacks
Thanks to zenon, you always have an overview of your facility and carry out all work steps ergonomically. You easily create new recipes on modern HMIs, according to your vision.
Use HMIs tailored to your needs
Enjoy flexible recipe management, based on ISA-88
Keep an eye on relevant processes on mobile devices
Just as your beer contains everything it needs for the perfect taste, zenon contains all the ingredients you need to control your brewing processes. Benefit from a wide range of software and technology:
The right decision making based on relevant KPIs
Make use of several features (Batch Control, Reporting, Energy Data Management, Process recorder)
Applications (Utility supervision, filling and line management)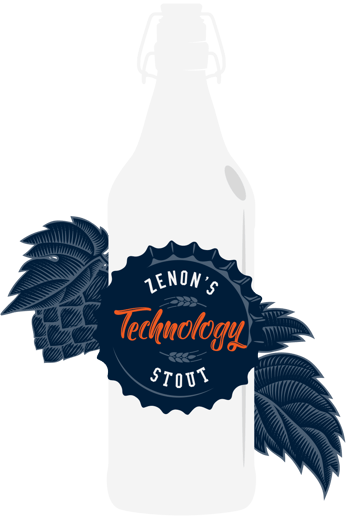 Get your brewing automation guide now!